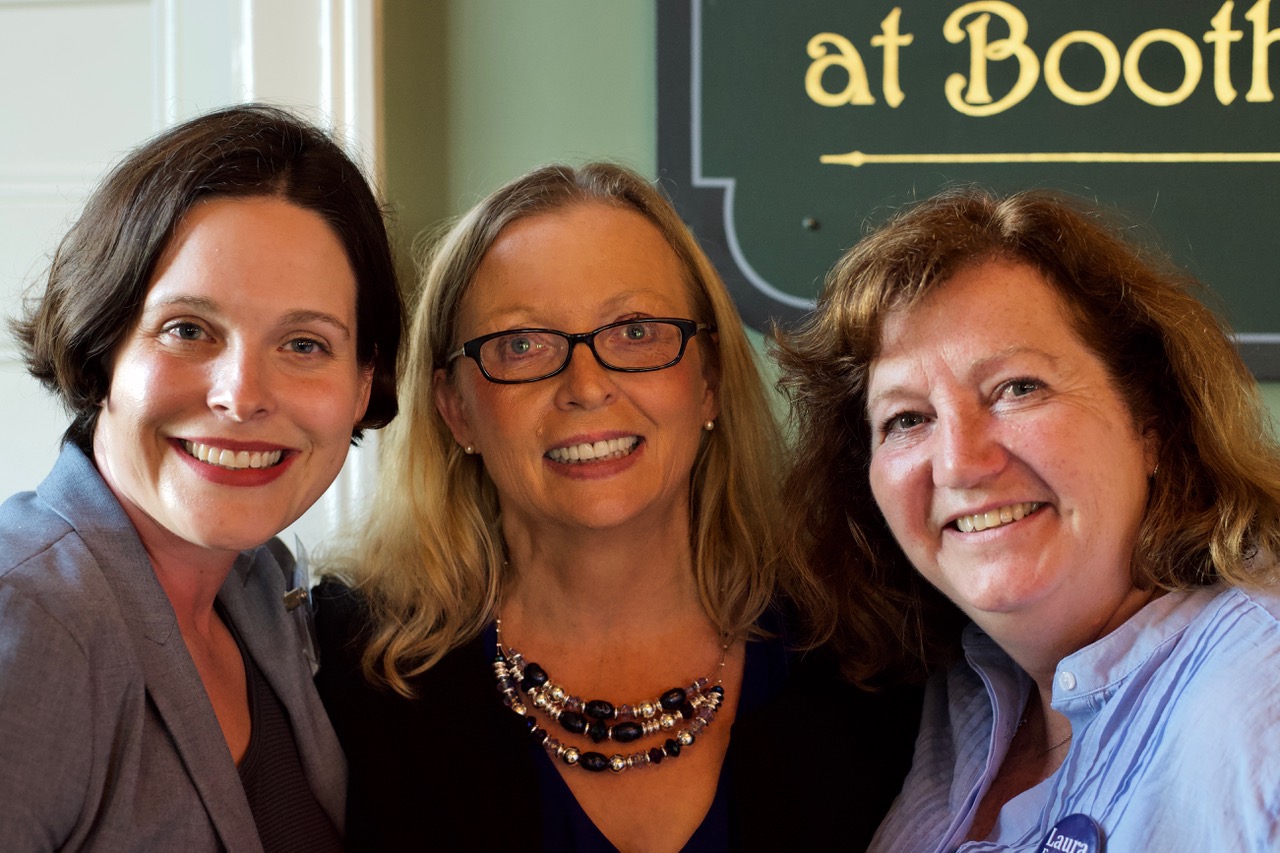 17 Sep

Brewing Democracy: A Night at The Opera House Draws 125
FOR IMMEDIATE RELEASE
Contact: Paula Arsenault at (207) 380-7554

BOOTHBAY HARBOR, ME, September 17, 2018 – 125 enthusiastic voters gathered at The Opera House at Boothbay Harbor on Thursday, Sept. 13, to meet Democratic candidates campaigning for the offices of Maine State Senate, Maine State Legislature, District Attorney, and U.S. Senate.
Emcee Miri Lyons, a health care worker from Boothbay Harbor, introduced the candidates who made brief remarks about themselves and their values as progressive candidates for change.
Holly Stover, a lifelong resident of Boothbay and candidate for State House District 89, shared her passion about serving the people in her community. As a professional for 23 years in the Maine Department of Health and Human Services, Stover fought homelessness, hunger, and domestic violence and provided support for people with mental health and developmental disabilities. She continues to serve her community through efforts such as helping to create a partnership with local police departments to combat the opioid epidemic. She wants to join the Legislature because she loves this community,
I think we need more unity; I want to bring people together across our community and ensure that ALL voices matter."
State Senate candidate Laura Fortman of Nobleboro has worked for decades in state and federal government, including eight years as Maine's Labor Commissioner. A devoted advocate for victims of sexual assault and domestic violence, Fortman also served as executive director of the Maine Women's Lobby and Policy Center. She observed that
the people of our district are decent, entrepreneurial, and resilient: hard-working Mainers. They deserve a fair shake but too often they're getting a raw deal."
Natasha Irving, a criminal defense attorney who grew up in Waldoboro, is running for District Attorney for PD6 (Knox, Lincoln, Sagadahoc, and Waldo counties). She is dedicated to changing attitudes toward offenders who have no safety net, who often are suffering from mental health and addiction issues, and promotes Community Based Restorative Justice as an effective and compassionate method of dealing with such problems. Irving says,
We need a competent administrator advocating for resources for our hard-working law enforcement officers, for the DA's office and the courts, including a veterans' court, a drug court, and a mental health court today."
Democratic candidate for U.S. Senate Zak Ringelstein of Yarmouth also appeared at the event and spoke about his personal experiences which spurred him into running for federal office.
Bruce MacDonald of Boothbay, a former Maine State Representative, inspired the gathering with his perspective on the importance of securing a Democratic majority in the Maine Legislature.
Lincoln County Sheriff Todd Brackett, scheduled to appear, was unable to attend.
With delightful background music by local musicians Chip Schwehm and John Schindler and delicious refreshments, the historic upstairs bar of The Opera House was a perfect setting for lively conversation with the candidates and with the energized people in attendance.
The event was co-sponsored by the Democratic Town Committees of Boothbay, Boothbay Harbor, and Southport, and the Lincoln County Democratic Committee (LCDC). These local committees and campaigns are always in need of volunteers. To join them, please contact office@lincolncountydemocrats.com or complete the form at http://lincolncountydemocrats.com/sign-up.
The final event in the Brewing Democracy series takes place on Thursday, Sept. 27, 5:30-7:30 p.m. at the upstairs Oysterhead Lounge of the Newcastle Publick House on Main St. Learn more about this and other LCDC events at http://lincolncountydemocrats.com/calendar.
ABOUT THE LINCOLN COUNTY DEMOCRATIC COMMITTEE
The Lincoln County Democratic Committee (LCDC) promotes the ideals, principles, and philosophy we share as Democrats. The nomination and election of candidates who advocate these ideals and principles ensure an effective, democratic government of and for all the people.