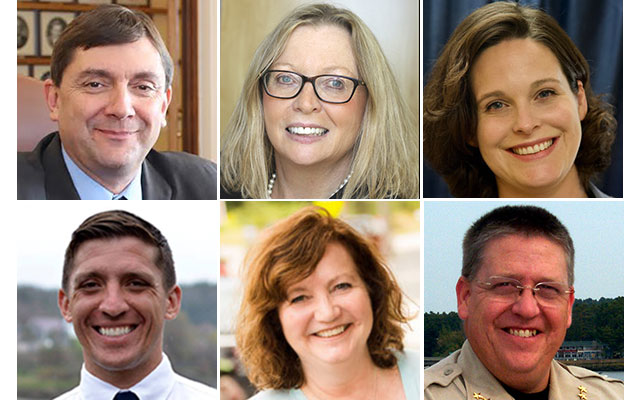 30 Aug

BREWING DEMOCRACY: A NIGHT AT THE OPERA HOUSE
FOR IMMEDIATE RELEASE
Contact: Paula Arsenault, 207-380-7554
The program is set for the Thursday, Sept. 13 Boothbay Region event to meet federal, state and county candidates with local refreshments and music
BOOTHBAY HARBOR, ME, August 30, 2018 – Voters are welcome to an informative yet informal evening of conversation, music, food and libations on Thursday, Sept. 13, 5:30-7:30 p.m. in the upstairs historic bar room of The Opera House at Boothbay Harbor (86 Townsend Ave.).
Special guest State Senate Democratic Leader Troy Jackson of Allagash (SD1) will share inspirational remarks on 'What It Means To Be A Democrat and Why We Must Have A Blue Wave This Nov. 6th!'
Confirmed candidates include: Holly Stover of Boothbay for State Representative HD89 (Boothbay, Boothbay Harbor, Edgecomb, South Bristol (Part), Southport, Westport Island), Laura Fortman of Nobleboro for State Senate SD13 (Lincoln County minus Dresden plus Washington and Windsor), Natasha Irving of Waldoboro for District Attorney PD6 (Knox, Lincoln, Sagadahoc and Waldo Counties), Lincoln County Sheriff Todd Brackett of Nobleboro, and Zak Ringelstein of Cumberland for U.S. Senate.
Local guitarist Chip Schwehm will welcome attendees and singer-songwriter John Schindler is on tap to close the evening's festivities. A cash bar will be available along with refreshments at no charge.
For more information, please contact Paula Arsenault, chair of the Boothbay Democratic Committee, at 207-380-7554.
The LCDC offers many "meet the candidates" events across the county along with other group discussions and meetings. Learn more at http://lincolncountydemocrats.com/calendar, www.facebook.com/lincolncountydems/ or @LCMaineDems on Twitter and Instagram.
ABOUT THE LINCOLN COUNTY DEMOCRATIC COMMITTEE
The Lincoln County Democratic Committee (LCDC) promotes the ideals, principles, and philosophy we share as Democrats. The nomination and election of candidates who advocate these ideals and principles ensure an effective, democratic government of and for all the people.