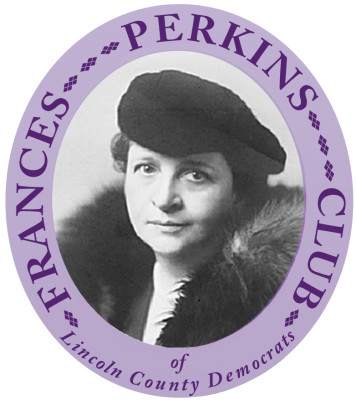 04 Mar

Frances Perkins Club | 2019 Membership Drive

Dear Friends,

Generous participation in the Frances Perkins Club helped provide seed funding for the successful Lincoln County Democratic Committee (LCDC) 2018 campaign efforts, demonstrating the important role our county can have in delivering a Democratic majority to the Maine legislature.

The LCDC proved it can be an effective and efficient steward of contributions during the 2018 election. We crafted a positive message for change. We established a safe space for the organization that enabled over 150 volunteers to engage directly with potential Democratic voters in the lead-up to election week. During our Get Out the Vote efforts, another 200 volunteers joined in to knock on doors ensuring Lincoln County voters understood the stakes.

See the gallery below to review a few snapshots with highlights from our 2018 campaign. Without your assistance, our gains would not have been possible. November 3, 2020 is right around the corner. We must begin now to prepare for the enormous challenge of national Presidential and senatorial races while we maintain our seats and seek to make gains locally. Help us dispel the false information amid the calls for divisiveness that are already penetrating our community – angry appeals to the worst aspects of our character. Help us proudly communicate our positive vision and Democratic party principles. Help us lay the foundation to build on our gains by renewing or increasing your membership level as we begin our march to Victory in 2020.

Please invest now in our grassroots organizing by downloading this form and mailing your check or by using this link to pay securely online. To express our appreciation, the LCDC offers members of the Frances Perkins Club various courtesies throughout the year including exclusive benefits and recognition at our annual events and meetings.

Thank you,

/s/Betsy Wooster
Frances Perkins Club chair

/s/Christopher Johnson
Lincoln County Democratic Committee chair
The LCDC Perkins Club Membership Drive
Frances Perkins Photo Courtesy of the Frances Perkins Center, a nonpartisan, nonprofit, educational organization based in Newcastle, Maine. The Frances Perkins Center, founded in 2009, is not affiliated with the Frances Perkins Club of the Lincoln County Democrats which was founded in 1996 as a way to recognize donors who make an investment in the Committee's grassroots organizing efforts with an annual gift of $150 or more.
A few snapshots from your LCDC Campaign 2018
Use your mouse to hover and read the caption.
We organized and hosted 18 live events across the county to communicate our values and introduce candidates to the public.
We produced nine "We the People" videos with your neighbors sharing what's important to them. They were viewed thousands of times.
We rented, furnished, and staffed a centrally located office. There, volunteers like you could gather, discuss, organize, and work hard for the changes they wanted to achieve.
Our Facebook page gained 60% more "Friends" and generated thousands of individual visits.
LCDC's barrage of press releases created weekly news of the campaign as it unfolded. You helped us "own" the Op-ed pages of local newspapers. LCDC women composed thousands of handwritten notes to their Democratic sisters. We mailed nearly 47,000 postcards to targeted recipients. We purchased large format ads and inserts. We accomplished so much because people like you cared enough to contribute time and treasure to our efforts.