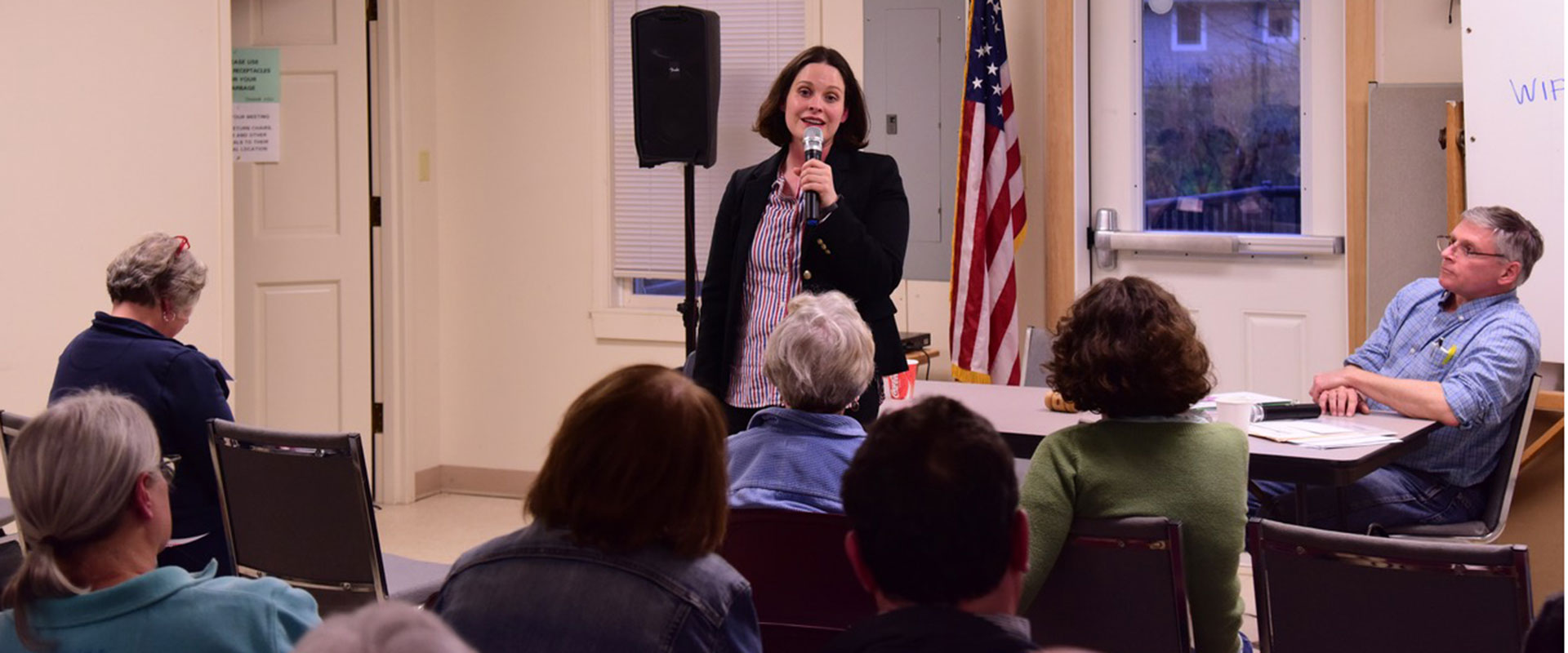 19 Jun

ICYMI Photos and Summary of the May 16 Month Meeting with DA Natasha Irving

The Lincoln County Democratic Committee met on May 16, 2019 and welcomed District Attorney Natasha Irving (PD6) from Waldoboro to share her thoughts on her first months in office.

Photos are courtesy of Bob Crink and this summary is thanks to LCDC Recording Secretary, Marilyn Buhyoff.
Summary
The Lincoln County Democratic Committee (LCDC) held its monthly meeting on May 16, 2019 at the Newcastle Community Room. The evening's guest speaker was Natasha Irving, District Attorney for Prosecutorial District 6, which includes Lincoln, Sagadahoc, Knox and Waldo Counties. 
She began her remarks by thanking everyone who helped her win the election last November. She is the first Democrat to hold the post since it was created in 1972. Ms. Irving continued by explaining how her prosecution philosophy is different from her predecessor's. She views jail as the punishment of last resort for most crimes, while keeping the public safe as her first priority. Her office considers other alternatives, particularly deferred disposition, where a criminal is offered an opportunity to take steps toward rehabilitation. Only when an offender refuses by their behavior to take advantage of that opportunity are they confined to jail. Jail is used as a last resort. 
Ms. Irving told the audience that scientific research has proven that incarceration loses its rehabilitative effect after 72 hours. And after 72 hours in jail, there are many negative consequences to locking up an offender. Also, because her office has finite resources, she must make prosecutorial decisions that focus those resources. For example, in 2017 there were nine people tried for various crimes after a peaceful protest at Bath Iron Works. All nine were acquitted, but the cases took prosecutors' time and court resources. In contrast, after a recent protest, each case was individually evaluated, and her office made the decision to decline prosecution. Ms. Irving said that, if the protest had been violent or had caused property damage, the protestors would have been prosecuted. Her office will not look at the political message, but rather will consider acts of civil disobedience on a case-by-case basis. There are only two staff prosecutors in each office, and these types of prosecutions take them away from dealing with more serious crimes. 
The District Attorney went on to tell the group that there has been a decline throughout the district in the number of people in jail. Waldo County in particular has very few incarcerated individuals. They have been practicing restorative justice in Waldo County for a long time. It is working. The recidivism rate has declined significantly. 
In Lincoln County, Sheriff Todd Brackett is using Maine Pretrial Services to divert offenders. Individuals charged with a crime can avoid jail by paying to attend a 3- or 7-day program at Camp Wavus to learn about budgeting, finding a job, locating programs for dealing with substance abuse and mental health issues and other skills that can help them have a better life. For some, the $300 or $500 cost of the program is a real barrier. Ms. Irving said that she is asking the County Commissioners for additional funding for scholarships, since the program offers better outcomes than jail. 
Sheriffs and police throughout the district have been supportive of the new restorative justice approach, since they know firsthand that the current system is not working. 
In conclusion, Ms Irving said that she simply wants to make the justice system work better in our area. She is particularly focused on crimes of sexual assault and is looking at all of these cases very closely and taking them all seriously. 
Audience members asked several interesting questions. Ina Demers asked if there are grants available to underwrite the costs of restorative justice camp. Ms. Irving said that she will be asking for $10,000 from each jurisdiction in the next budget cycle to pay the cost of a grant writer, who would be able to look for funding.
 Ms. Demers also asked if students are referred to the juvenile justice system for problems in the schools. The DA responded that there are many deficiencies in the current juvenile justice system. Some of these would be addressed by LD 1684, which is now being considered by the Maine legislature. 
Sylvia Morrison asked about the standards used by the police when charging individuals involved in civil disobedience. Ms. Irving said that they determine whether there is probable cause that a crime has been committed. 
Ralph Jacobs was interested in how "re-entry courts", or special purpose courts, affect recidivism rates. The District Attorney explained that these types of courts–drug court, co-occurring disorders court and veterans' court—are very successful at ending recidivism. For example, a veterans' court in Maine has a 98% success rate. Ms. Irving has asked for legislation to establish a special purpose court in Lincoln County. It certainly makes fiscal sense, as it costs $26,000 per individual per year for a special court and $45,000 per inmate per year to keep them in jail. 
Asked about her biggest surprises in her new job, Ms. Irving responded that the fact that there is no paid maternity/paternity leave for her office employees was a negative surprise. The response of her staff prosecutors, who understand her aims and are proud of doing something good, was very positive. 
Ms. Irving finished her presentation by saying that her goals in office are to fight for health care infrastructure for her office employees; to use jail as a rehabilitative opportunity; and to treat people like human beings. 
The audience warmly thanked the District Attorney.