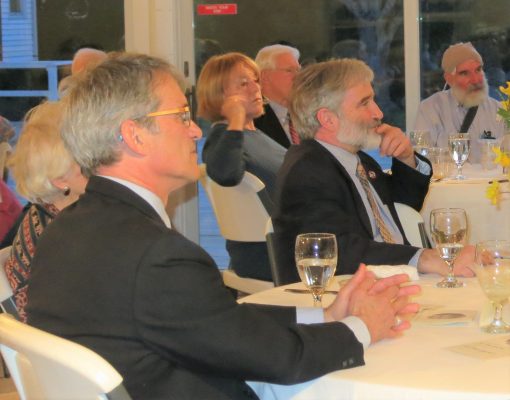 16 May

LCDC Host 60 at the May 5 Frances Perkins Award Dinner
FOR IMMEDIATE RELEASE
Contact: Chris Johnson, Somerville at (207) 549-3358
JEFFERSON, ME, May 16, 2018 – Tomlin Perkins Coggeshall, grandson of Frances Perkins – FDR's Secretary of Labor and the first woman to hold a presidential cabinet position – was honored by the Lincoln County Democratic Committee (LCDC) during the Frances Perkins Award Dinner on Saturday, May 5.
The biennial event honors a Lincoln County Democrat who exemplifies, through their efforts, the continuing legacy of Frances Perkins, who was the lead advocate of the New Deal for Social Security, the 40 hour work week, workers' compensation, and unemployment insurance, as well as for laws regulating child labor. Lincoln County Democrats share her values rooted in the needs of working people.
Attendees were attentive to the insights, and heartfelt remarks of speakers Dr. Christopher Breiseth, the Honorable Margaret Rotundo, and Christopher Rice as they shared stories about Tomlin from his grandmother's perspective, his being sheltered from her public life, and of Tomlin and Christopher's journey of discovery and insight regarding his grandmother's achievements.
During his remarks, Chris Johnson, Chair of the Lincoln County Democratic Committee said,

In a time when Social Security and other achievements of Frances Perkins to improve the lives of plain working men and women are under attack, Tomlin's work to teach about her legacy, and to preserve it, means more to people's lives than many people know. I am pleased that we are recognizing Tomlin for that and proud to call him friend."

Mr. Coggeshall, who was accompanied by his husband Christopher Irvine Rice, was humbled by the recognition of their work to establish the France Perkins Center in Newcastle, where they continue to live in the "Brick House" – the Perkins family homestead for many generations.


This is truly a great honor, I am thrilled and touched to be chosen for this year's Frances Perkins Award!" Coggeshall said. "The Frances Perkins Center, a non-profit organization was founded in 2009 with a mission to preserve my grandmother's legacy as well as carry on her work. It is gaining solid momentum which pleases me no end."


Betsy Wooster, Fundraising Committee Chair for Lincoln County Democrats was thrilled with the turnout,


We had at least 60 attendees to help honor Tomlin for his work in support of our shared values," she said.




Frances Perkins' message rings true today," she added, referencing a quote of Frances Perkins cited by the evening's speakers: "The people are what matter to government, and a government should aim to give all the people under its jurisdiction the best possible life."




Lincoln County Democrats place an emphasis on the word 'all' in that statement," Ms. Wooster added, "an important distinction today, as some politicians like to demonize the poor while they stack the laws to favor the wealthy and take away opportunities for working class people to improve their lot in life."
ABOUT THE LINCOLN COUNTY DEMOCRATIC COMMITTEE
The Lincoln County Democratic Committee (LCDC) promotes the ideals, principles, and philosophy we share as Democrats. The nomination and election of candidates who advocate these ideals and principles ensure an effective, democratic government of and for all the people.