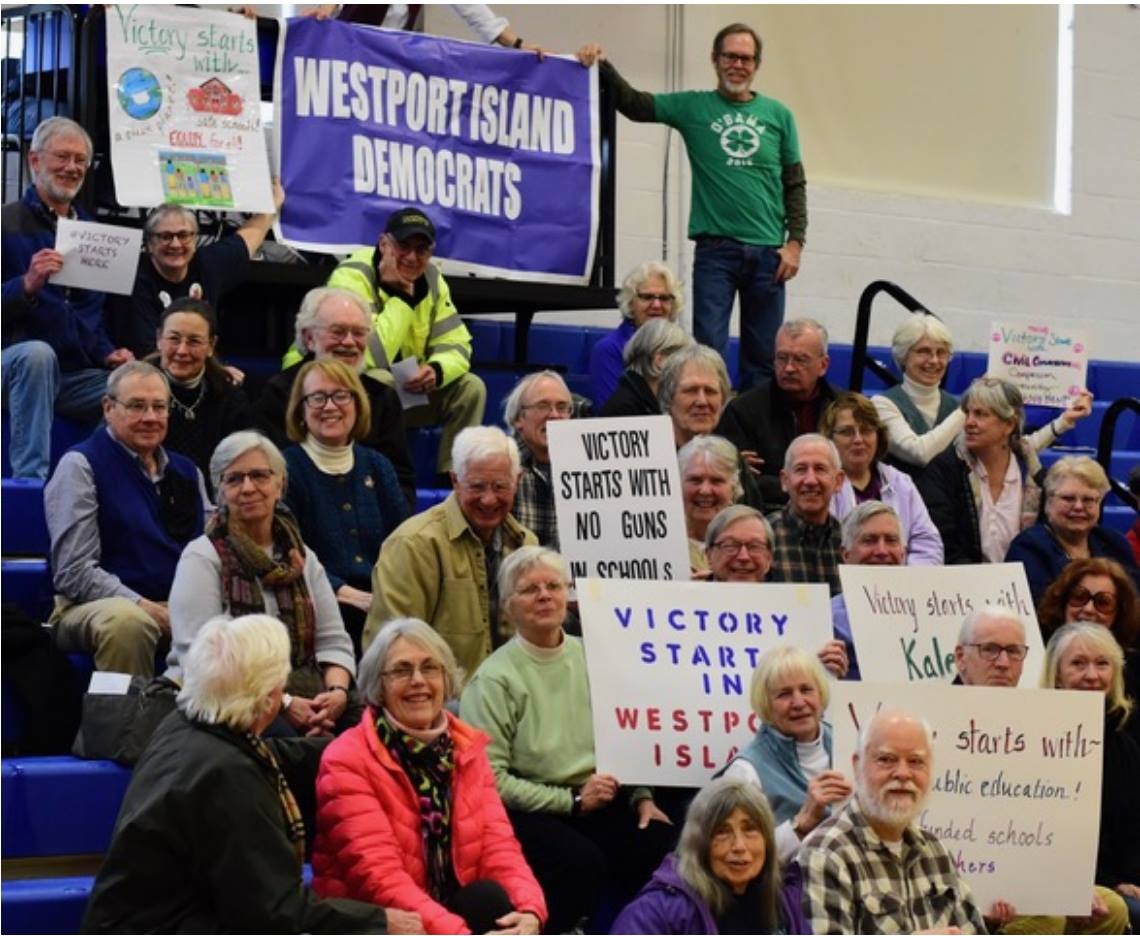 08 Mar

LINCOLN COUNTY DEMOCRATS HOST RECORD-BREAKING CAUCUSES
FOR IMMEDIATE RELEASE
Contact: Chris Johnson, Somerville at (207) 549-3358
Local democrats believe the time is now to come together and invest in Maine's economy to provide people, young and old, a place to thrive and not just survive
WALDOBORO, ME, March 8, 2018 – On Sunday, March 4, more than 3,000 democrats convened biennial caucuses across the state. In Lincoln County, 18 towns gathered in seven locations to rally for victory in 2018.  #VictoryStartsHere united caucus-goers statewide on social media.
Through banners and posters, this year's caucus attendees shared their desires for the future of their government and a desire to be heard: "Victory Starts with Civil Conversations, Compassion, Community, Engagement;" "Victory Starts with Working Together;" "Victory Starts with Safe Schools;" "Victory Starts with a Clean Planet;" "Victory Starts with Your Vote;" "Victory Starts with Participation;" "Victory Starts with Medicaid for All;" and "This is what Democracy looks like."
The caucus was a great opportunity to connect with other people who are working hard to stay hopeful, even as the opportunities that make life here in Maine so wonderful are slipping away. We heard from candidates who have strong ideas about improving access to mental health providers, quality child care, and fully funded public education. We heard about small business opportunities and support for women's rights and labor concerns. I left feeling more positive than I have in more than a year," shares Heather Sinclair of Edgecomb.
Mary and Walt Voskian of Bremen said that as caucus participants they were

encouraged by the dedication of those who took part. Speakers had clear messages, and the delegations from the local towns enthusiastically went about their organizational and selection tasks. It was a very good first step in turning around our government and making it more representative of the consent of the governed and not of a privileged few."
They went on to add that they would have liked to have seen greater participation,

...given the local and national importance of the 2018 election. We hope this respectable but still modest turnout does not reflect complacency or apathy about this important election. Given the high stakes and clear issues in this election for our democracy, we encourage all to stand up, be heard, and above all vote."
Sunday's attendees signed nomination petitions for party candidates across the state, county and districts, contributed $5 donations to help candidates qualify for Maine Clean Election Act funding, and met these candidates: Natasha Irving of Waldoboro, District Attorney candidate for Prosecutorial D6, serving Knox, Lincoln, Sagadahoc, and Waldo counties; Lincoln County Sheriff Todd Brackett of Nobleboro, candidate for reelection; Laura Fortman of Nobleboro, candidate for State Senate D13, representing Alna, Boothbay, Boothbay Harbor, Bremen, Bristol, Damariscotta, Edgecomb, Hibberts Gore, Jefferson, Louds Island, Monhegan Island Plantation, Newcastle, Nobleboro, Somerville, South Bristol, Southport, Waldoboro, Washington, Westport Island, Whitefield, Windsor, and Wiscasset; County Commissioner D2, William Blodgett of Waldoboro, candidate for reelection, representing Bremen, Bristol, Monhegan Plantation, Nobleboro, South Bristol, Waldoboro; Stephen Ball of Windsor, candidate for State House D80, representing Augusta (part), Somerville, Vassalboro and Windsor, plus the unorganized territory of Hibberts Gore; Jason Putnam of Wiscasset, candidate for State House D87, representing Alna, Pittston, Randolph and Wiscasset; Alan Plummer of Chelsea and Chloe Maxmin of Nobleboro, candidates for State House D88, representing Chelsea, Jefferson, Nobleboro (part) and Whitefield; Holly Stover of Boothbay, candidate for State House D89, representing Boothbay, Boothbay Harbor, Edgecomb, South Bristol (part), Southport and Westport Island; State Representative D90, Mick Devin of Newcastle, candidate for reelection, representing Bremen, Bristol, Damariscotta, Newcastle, Nobleboro (part), South Bristol (part) and Monhegan Island Plantation, plus the unorganized territory of Louds Island.
Municipal caucuses are the Maine Democratic Party's organizational foundation. Attendees elected Municipal Officers and County Committee members as well as delegates to the upcoming Democratic State Convention in Lewiston, set for May 18-20.
The next regular meeting of the Lincoln County Democratic Committee (LCDC) is Wednesday, March 21, at the Newcastle Fire Station, 86 River Road. The LCDC meetings are open to the public. FMI: http://lincolncountydemocrats.com or www.facebook.com/lincolncountydems/.
ABOUT THE LINCOLN COUNTY DEMOCRATIC COMMITTEE
The Lincoln County Democratic Committee promotes the ideals, principles and philosophy we share as Democrats. The nomination and election of candidates who advocate these ideals and principles ensure an effective, democratic government of and for all the people.