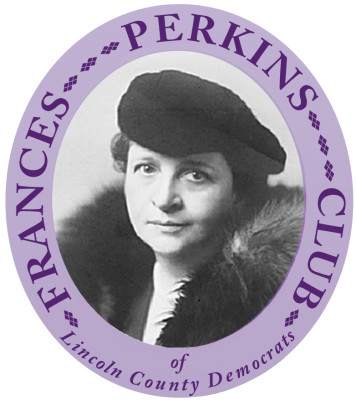 12 Feb

Frances Perkins Club | 2018 Membership Drive

Dear Friends,

In a crisis of leadership such as this, our resistance is essential. But that alone is not enough. We have to place the balance of power in the hands of progressive leaders. We have to elect change and that takes grassroots contributions.

Our state and our nation don't need politicians who further enrich the wealthiest at the expense of education, health care and livable wages. We don't need politicians that don't listen to constituents, and worse, actively work to repeal laws passed by the people. We've had enough of politicians who say they represent the people while their actions say otherwise.

Real leaders understand that greatness isn't demonstrated by bragging about whose nuclear button is bigger; that money can't buy greatness; and that budgets and economic policies are moral documents only to the extent that they serve a truly human purpose.

Which is why we work to elect Democrats who share our progressive values.

Please consider joining us in this effort and become a member of the Frances Perkins Club of Lincoln County Democrats. Your membership dollars will help fund all our work to elect good people to office:
Campaign headquarters
Technology and supplies to support volunteer work
Media ads and mailings
Your financial support and volunteering makes this all possible, we can only do this with your help. Please join or renew to help make our work possible.
Thank you,
/s/Valarie Johnson
Frances Perkins Club chair
/s/Christopher Johnson
Lincoln County Democratic Committee chair
The LCDC Perkins Club Membership Drive
Frances Perkins Photo Courtesy of the Frances Perkins Center, a nonpartisan, nonprofit, educational organization based in Newcastle, Maine. The Frances Perkins Center, founded in 2009, is not affiliated with the Frances Perkins Club of the Lincoln County Democrats which was founded in 1996 as a way to recognize donors who make an investment in the Committee's grassroots organizing efforts with an annual gift of $150 or more.