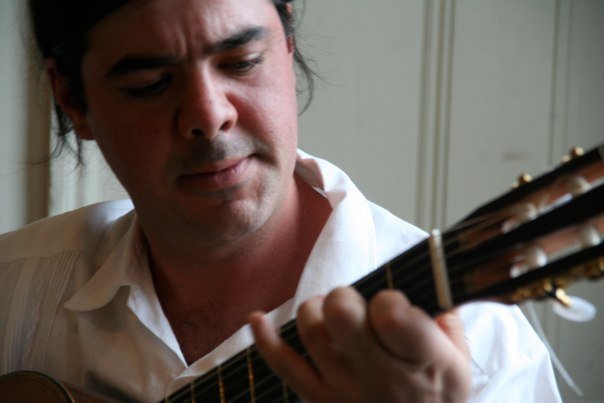 03 Apr

Southwestern-Style Bean Supper to feature Jeffrey Rojo, classical guitarist
FOR IMMEDIATE RELEASE
Contact: Geoffrey Bates at (207) 644-8776
BOOTHBAY, Maine, April 4, 2019 – The public is invited to enjoy a variation on the traditional New England bean supper Saturday, May 4, when the Lincoln County Democratic Committee (LCDC) hosts a "Southwestern-Style" Bean Supper at the American Legion Hall in Boothbay from 4:30–7 p.m. The all-you-can-eat family style dinner will include gluten-free and vegetarian options. Belfast-based Spanish classical guitarist Jeffrey Rojo will perform following the dinner service.
Guests will enjoy their choice of southwestern-style vegetarian pinto beans, black beans and chorizo (spicy Mexican sausage), rice, corn chips, tossed salad, salsa and other toppings, and chocolate desserts.
"We're thrilled to be hosting this very special event on the Boothbay Peninsula and hope folks from across the county will 'Come-on-down!' and join us for what should be a fun afternoon," said Geoff Bates, Chair of the LCDC Fundraising Committee. "While the menu will be simple, it honors the rich contributions Mexican-Americans have made to our culture," he continued. "Mr. Rojo has graciously agreed to join us and will deliver what I'm certain will be a memorable performance."
Rojo was born in Mexico City, Mexico. "As a child, I was immersed into a very vibrant and colorful culture where art, food, and music were a huge part of everyday life," the musician said during a recent conversation. "I was attracted to the guitar and was trained and guided by Bolero guitar legend Alfredo "El Guero Gil" of the world famous Trio Los Panchos."
After graduating from the Escuela Superior de Musica in Mexico City with a bachelor's degree in music performance and education, Rojo moved to Maine where he teaches classical guitar at University of Maine – Augusta and the Bay Chamber Music School in Rockport. "How did I get to Belfast, Maine? I had the good fortune to spend summers in the Boothbay region enjoying fishing, boating, hiking and learning other outdoorsman skills from my grandfather, Alfred "Bud" Harrington," he reminisced. A video of Rojo performing Jose Ferrer's "Belle" can be seen [below or] at https://www.youtube.com/watch?v=TFyaNMw37I8.
Admission to the supper is $15 for adults, $7 for children ages 6-12, and $35 for a family of four. Hosting opportunities are also available and all proceeds from the event will benefit the grassroots organizing efforts of the LCDC.
The American Legion Hall in Boothbay is located at 25 Industrial Park Dr., just off of State Rte. 27. While walk-ins are welcome, reservations are requested. Host sponsorships are available. To make a reservation or become a host, visit http://lincolncountydemocrats.com/beans. For more information, please contact Geoff Bates at 207.644.8776 or info@lincolncountydemocrats.com.
In 2019, the LCDC meets on the third Thursday of each month through Nov. at 6:30 p.m. at the Newcastle Fire Station, 86 River Rd. Some gatherings, like this one, are open to the public. All Democrats and progressive independent or unenrolled voters are encouraged to attend any committee meeting. Registered Democrats in Lincoln County are invited to join the LCDC as voting members to help in their work.
Information about the committee, its meetings and other activities may be found at http://lincolncountydemocrats.com or www.facebook.com/lincolncountydems/.
ABOUT THE LINCOLN COUNTY DEMOCRATIC COMMITTEE
The Lincoln County Democratic Committee (LCDC) promotes the ideals, principles, and philosophy we share as Democrats. The nomination and election of candidates who advocate these ideals and principles ensure an effective, democratic government of and for all the people.