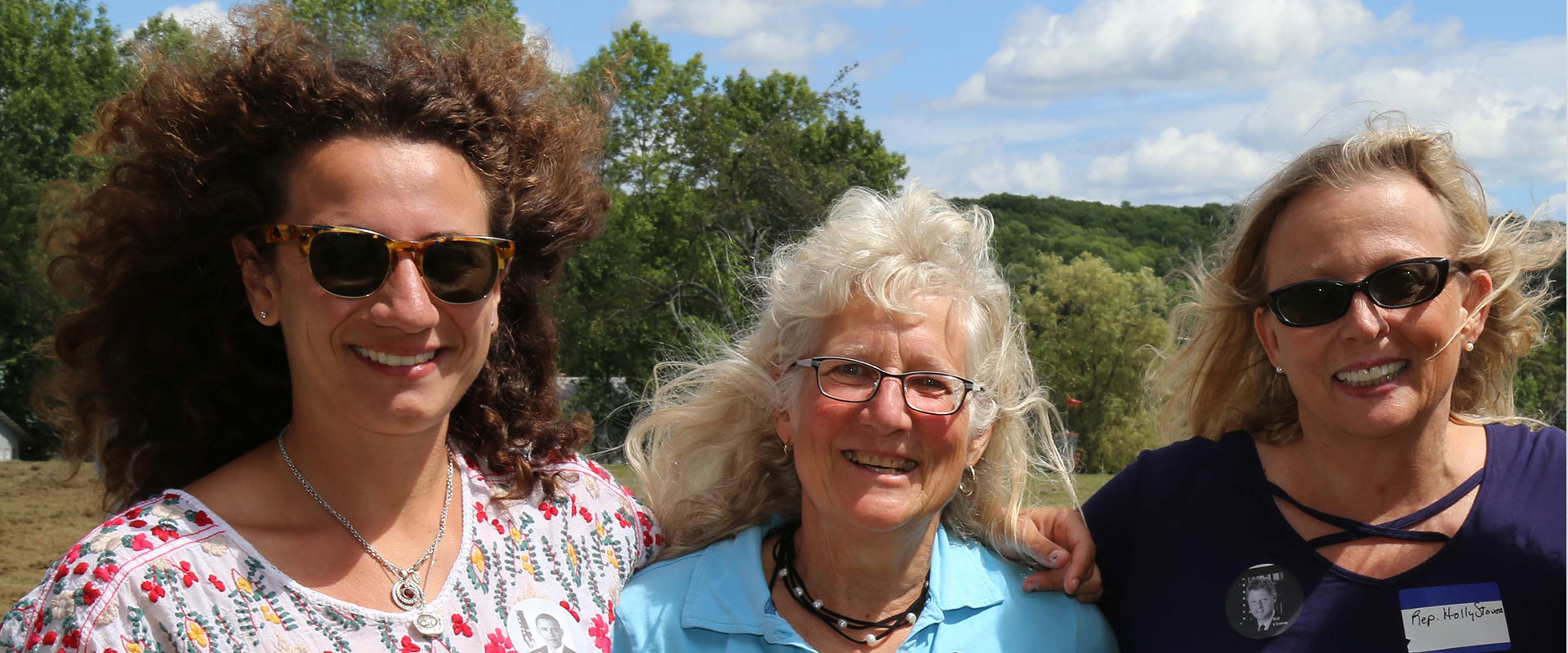 19 Sep

State House Representatives to Attend Harvest Dinner Oct. 6
FOR IMMEDIATE RELEASE
Contact: Geoffrey Bates at (207) 644-8776
WHITEFIELD, ME, Sept. 19, 2019 – Maine State Representatives Chloe Maxmin (Dist. 88), Holly Stover (Dist. 89), and Allison Hepler (Dist. 53), will help the Lincoln County Democratic Committee (LCDC) celebrate autumn during their Harvest Dinner, to be held Sunday, Oct. 6 at 5 p.m. at the historic Kings Mills Union Hall, 901 Townhouse Rd. in Whitefield.
The meal will showcase locally sourced hearty stews, chowders, bread, cider, and homemade desserts, with an emphasis on apple and pumpkin pies. Live music will be provided by Well Seasoned.
The three women are first-year legislators and represent sections of Maine that are rich in agriculture and are experiencing a renaissance in farming with a surge of young people committed to working with the land.
My commitment to District 88 throughout the campaign and our time in Augusta is to bridge the gap between politics and our community," commented Maxmin. "That bridge has been broken, and it's up to us to make sure that our political system truly reflects the needs of our District. That is why I am proud to serve on the Agriculture, Conservation, and Forestry Committee," she said, then smiled and added, "and at the Harvest Dinner this October," referring to the fact that representatives will help serve the delicious fare at the event.
Stover has drawn upon her lifelong experience in working in social services sector as a member of the Joint Standing Committee for Health and Human Services and is looking forward to the chance to meet one-on-one with guests at the event.

I am thrilled to be attending the annual Harvest Dinner," she said. "It is always a wonderful opportunity to connect with the people we share a community with. I look forward to hearing everyone's thoughts, concerns and ideas on Oct. 6."
Hepler's district stretches from the orchards and fields of Dresden south to historic Popham Beach in Phippsburg.

I recognize that representing this district is about community and listening to every resident," she said. "During my time on the Marine Resources Committee this year, I've been impressed with our area's important contributions to Maine's economy through the lobstering, clamming, and aquaculture that takes place across our islands and peninsulas. My experience has confirmed that we are good stewards of our marine environment."
Valarie Johnson, the fundraiser's organizer, appreciated that the representatives have been able to include the event on their calendars and repeated her invitation to the public. "In this busy time of year we all need to pause to appreciate our local bounty. Join us for local comfort food, company, and musicians," she said.
Attendees may pay at the door or reserve a space through the secure portal at http://lincolncountydemocrats.com/harvest. Admission is a $20 donation per person over the age of 10. All ages are welcome. For attendees who would like to offer additional support for the event and LCDC efforts, there is an opportunity to be a member of the host committee for $50 which includes admission for one and recognition at the event.
For more information, to offer a dish or helping hands, or to become a member of the host committee, please contact Valarie Johnson at 207-549-3358 or ValarieSmithJohnson@gmail.com.
The LCDC uses the money they raise through this and other fundraising initiatives to support their local efforts in Lincoln County. Its grassroots mission is to organize volunteers and communicate with voters in support of candidates who believe in the Democratic ideals and principles of government by, of, and for all the people.
ABOUT THE LINCOLN COUNTY DEMOCRATIC COMMITTEE
The Lincoln County Democratic Committee (LCDC) promotes the ideals, principles, and philosophy we share as Democrats. The nomination and election of candidates who advocate these ideals and principles ensure an effective, democratic government of and for all the people.