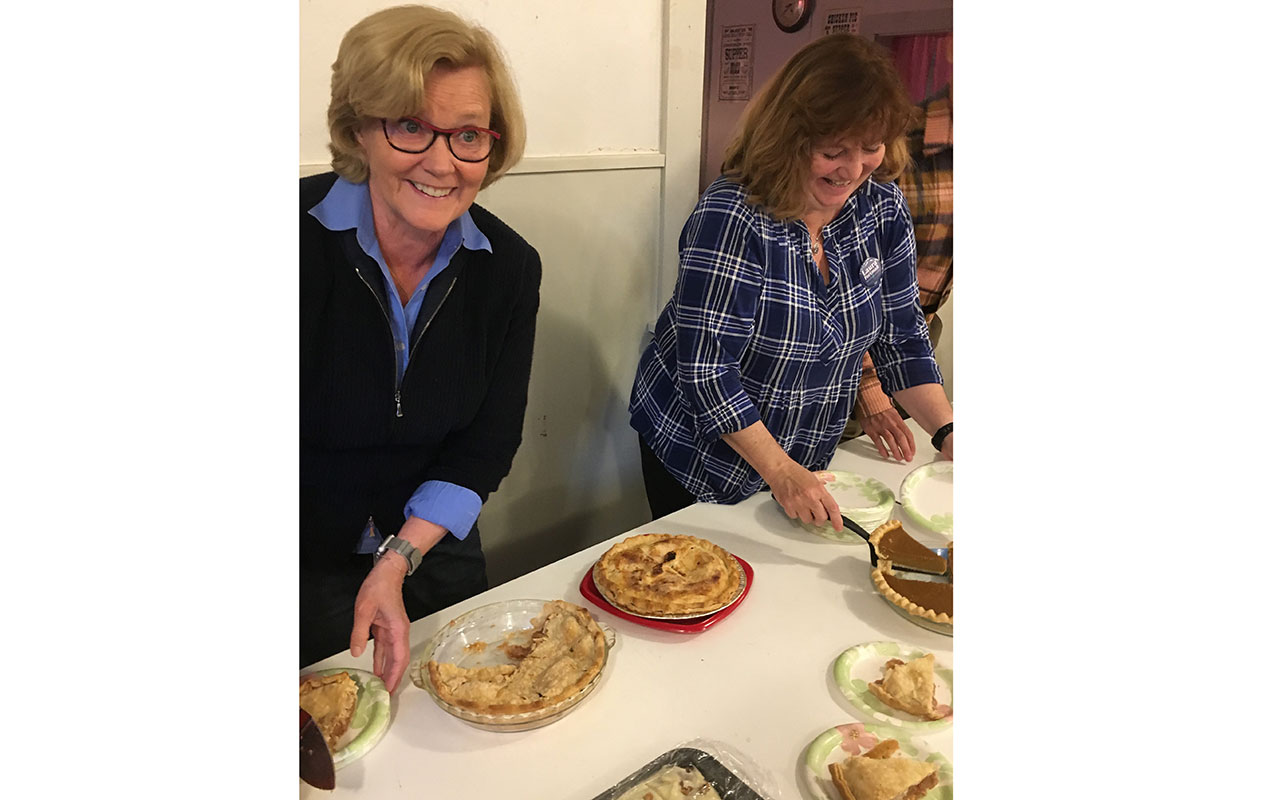 18 Oct

Whitefield Harvest Gathering Serves Up Candidates and Enthusiastic Voters
FOR IMMEDIATE RELEASE
Contact: Geoffrey Bates at (207) 644-8776
WHITEFIELD, ME, October 18, 2018 – With the strains of Woody Guthrie's anthem, "This Land is Your Land," supplied by local folk group Well Seasoned kicking off a rollicking set, the Lincoln County Democratic Committee (LCDC) hosted a sold-out Harvest Dinner in Whitefield on Sunday, Oct. 14.
Guests from South Bristol to Somerville filled the Kings Mills Union Hall to overflowing and enjoyed locally-sourced chowders, stews, homemade breads and pies as state and local candidates mingled and discussed important issues in the upcoming mid-term election with the crowd.
U.S. Congresswoman Chellie Pingree, U.S. Senate candidate Zak Ringelstein, State House Representative Mick Devin, and State Senate candidate Laura Fortman ladled heaping portions of harvest bounty into waiting bowls.
Congresswoman Pingree, who has been a farmer in North Haven for decades, first commented on the upwelling of candidates in the Democratic ranks, but then went on to say,
I know we're in some of the most beautiful farmland in the State of Maine. As a participant in the Agriculture Appropriations Committee and working on the Farm Bill, we have a lot of change yet to do. In Maine we are reaping the benefits of so many years of people engaging and supporting agriculture in the state, and we are one of the few states where the average age of our farmers is going down. … doubled the number of women in farming compared to any other state ... and have more acreage going into cultivation. And, thank you to Mainers: they like to buy locally, they've made a huge difference to our farmers and that's a great thing for our rural economy."
Ringelstein delivered his message of support for working class people forcefully, making his point that when it comes to developing policy,
The working class is not at the table, we're on the menu."
LCDC Chair Chris Johnson introduced Representative Devin to the group. Devin, a Navy veteran and retired marine scientist, has worked tirelessly on issues concerning Maine's coastal waters and has been instrumental in crafting legislation concerning farming the sea. He urged folks to not only make sure they voted, but to make sure their friends got to the polls, as well.
Chloe Maxmin, candidate for State House from District 88 arrived late, having been knocking on doors and discussing issues with potential constituents. She shared that the majority of her district is Republican or unaffiliated voters but said,
One of the things that I try to explain at the door is that I'm not for the rich or the powerful running our country; I am for the values that are inclusive and respect everybody's voices no matter who you are, where you're from, where you grew up, how much money you made, what school you went to. It doesn't matter. I think we deserve a society where the government serves everybody. The biggest piece of common ground I find with everybody is that we are so tired and so frustrated with the way our political system is going - on all sides of the aisle. We don't feel respected. We don't feel heard. So a big part of our campaign that resounds with everybody is that we're doing things differently. We're bringing a different energy and a different perspective to politics and to campaigning to Augusta and that's what our people deserve."
Fortman took the microphone and delivered a compelling story, sharing that,
I grew up in a working-class family, so many of the issues we've talked about tonight resonate with me, not just on a policy level but on a personal level. I know what it's like to be 18 and pregnant and scared and trying to figure out what life is going to hold for me. I know what it's like to be working in a minimum wage job in fast food and retail and homecare and trying to figure out how to make that paycheck stretch far enough to pay the bills. I also know what it's like on the other end of the spectrum, as an adult daughter trying to help my mom as she was struggling to make ends meet with Social Security and feeling a little bit helpless watching that. And the services not being there for her."
Shifting gears, Fortman continued,
I ran because I also have experience - I was the Labor Commissioner for the State so I do understand how the government works. I understand how to craft legislation, how to build coalitions, and then how to implement things."
She agreed with Maxmin, noting that many of the people she has met complain about not having a voice, but went on to comment on the lack of healthcare and the high deductibles that many people have which, in many cases, make basic healthcare unreachable.
There is no one silver bullet," she concluded, still with hope. "These are complicated issues and we need to work together to find solutions. Because ultimately what we want is shared, sustainable, prosperity for all of us."
ABOUT THE LINCOLN COUNTY DEMOCRATIC COMMITTEE
The Lincoln County Democratic Committee (LCDC) promotes the ideals, principles, and philosophy we share as Democrats. The nomination and election of candidates who advocate these ideals and principles ensure an effective, democratic government of and for all the people.