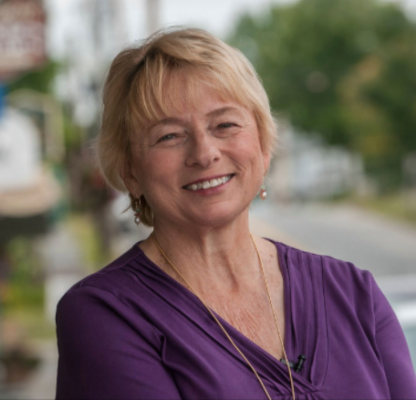 22 Jun

Janet Mills

Information provided by the Candidate.

It's time for change. It's time for bold ideas. It's time for a new direction. As Governor, I will fight every single day for affordable, high-quality health care, a strong economy with good-paying jobs in every part of the state, and a world-class education for every Maine child. The best chapter in the story of our state has yet to be written—so let's get to work writing it together.

Janet Mills has always been a fighter—a fighter for Maine people and a fighter for a better future. Janet is running for governor because she believes it's time for change—a new direction for Maine based on bold ideas and courageous, independent-minded leadership.

As governor, Janet will fight to see that every Maine person has affordable, high-quality health care, that Maine has a strong economy with good-paying jobs in every part of the state, that every Maine child has access to a world-class education, and that Maine is a place where families can put down roots and raise their kids.

Janet was born and raised in Farmington, Maine, where she still proudly lives today. The granddaughter of Aroostook County potato farmers and the daughter of a long-time high school English teacher, Janet learned the value of hard-work at an early age, venturing out early every morning to deliver newspapers along her route and serving meals in the evening at the local diner. She graduated from Mt. Blue High School in Farmington, the University of Massachusetts at Boston, and the University of Maine School of Law.

Janet first entered public service as an Assistant Attorney General, where she prosecuted homicides and other major crimes. After a few years, she was elected District Attorney for Androscoggin, Franklin and Oxford Counties, making her the first woman to be elected as a DA in New England.

In that role, Janet saw firsthand how the criminal justice system frequently failed victims of domestic violence. Frustrated by the legislature's failure to take action, Janet co-founded the Maine Women's Lobby to advocate for battered and abused women, and won election to the Maine House of Representatives herself in 2002.

In 1985, she met and married the love of her life, her husband, Stan Kuklinski, a widower with five young daughters ages four to sixteen. Janet and Stan moved back to Farmington, and she became a full-time mom to five daughters who she helped raise while working full-time herself. She is now the proud grandmother to three grandsons and a granddaughter.

After a devastating stroke, Stan passed away in 2014. In the last year of his life, Janet learned firsthand what thousands of Maine families go through every year—a complex and confusing health care system, rejection letters from insurance companies, and unaffordable prescription drugs even for those lucky enough to have coverage. This is why Janet is so determined to ensure that every Maine person and every Maine family has access to affordable, high-quality health care.

For the past five years, Janet has served as the Attorney General of Maine—the first and only woman to hold the job. As Attorney General, Janet has made it her mission to stand up to those who have tried to exploit Maine people—from fighting dishonest mortgage lending companies to help keep Maine people in their homes, to fighting big Pharma for their role in creating the opioid crisis and then using that money to purchase overdose-reversal kits that have saved more than 500 lives, to fighting Governor LePage in order to protect health care coverage for young adults.

She wants to take that fight to the Blaine House on behalf of Maine people.

This election couldn't be more important. Maine is at a crossroads—we can continue to do more of the same or we can work towards a better, brighter future. Janet is ready to take Maine in a new, better direction–but we'll need your help. Will you join us?

Janet is a traditionally financed candidate, and we accept donations at our secure online portal at janetmills.com/contribute.