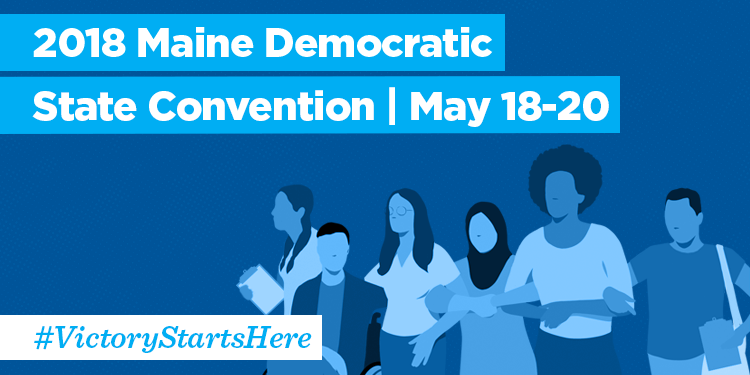 04 Apr

2018 Democratic State Convention

Our 2018 Democratic State Convention will take place on Friday, May 18 – Sunday, May 20 at the Androscoggin Bank Colisee in Lewiston. The convention gives Democrats the opportunity to hear from MDP leadership, Democratic candidates, and grassroots leaders; meet fellow passionate Democrats from across the state; and participate in activist workshops. Check out our  Convention Schedule for more information. Only Convention delegates and alternates speak on the floor and vote, but the event is open to the public and we encourage you to attend!
WHAT YOU NEED TO KNOW
If you were elected as a Delegate, you must register* here. Pre-register by May 11 to save money and time in line!

To attend as a guest, pre-registration* is encouraged.
Delegate check-in is open Friday from 12:00 to 8:00 PM and Saturday from 7:30 AM to 9:30 AM. YOU MUST check in by 9:30 AM on Saturday. Delegates will be asked to vote to adopt the Rules (Friday night), adopt the Platform (Saturday morning), and attend their County Caucus to elect State Committee members and conduct other business (Saturday afternoon). Only newly elected members of the State Committee need to attend on Sunday.
If you'd like to carpool to the convention on Saturday, meet at the parking lot at Shaw's in Wiscasset at 6:30 AM. Both potential drivers and hopeful passengers should park at the end of the Shaw's lot closest to Rt 1. If you absolutely must get a ride, contact Barb Burt at barbaraburt@protonmail.com to be put on a list for a seat.

Questions: convention@mainedems.org
*Please note: Convention registration fee waivers are available for situations where paying the registration fee would create a financial hardship. If you need a fee waiver, please call (207) 274-7223. You will need your Delegate ID # which you will get by starting the registration process online.