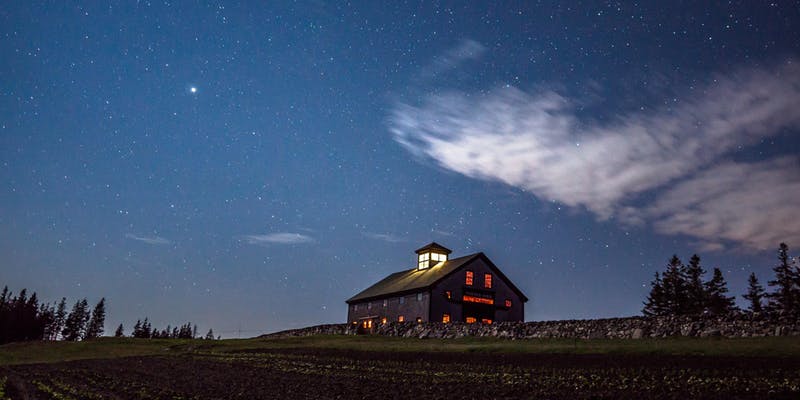 22 Jun

Lincoln County Democratic Committee Offers Island Farm-to-Table Raffle Opportunity
FOR IMMEDIATE RELEASE
Contact: Geoffrey Bates at (207) 644-8776
WALDOBORO, ME, June 22, 2018 – The Lincoln County Democratic Committee (LCDC) invites the general public to purchase "A Treat For Two" raffle tickets to a Maine excursion and Farm-to-Table meal, to be hosted Friday, Aug. 17, in the Turner Barn at Nebo Lodge on North Haven Island.
Tickets are $30 each for a chance to win round-trip transportation from Rockland to the island, a tour of the farm, a five-course meal, local brew and wine, spectacular twilight views, and lively conversation for two guests. The value of this opportunity is $300.
Where else can you have such a unique, enjoyable evening out including a five-course meal, local brew and wine for two on a Maine Island with a $30 luck of the draw? This is our fourth year of having the raffle at Nebo Lodge Barn and each time I received great compliments on the event. So this is a must have event each year," shared Valarie Johnson of the LCDC Fundraising Committee.
"A Treat For Two" raffle tickets are available at the LCDC Campaign Headquarters: 521 Main St., Damariscotta, across from Round Top Ice Cream (2nd Floor from the front door, 1st Floor from the rear door). Office hours are Tues-Fri, noon – 6 p.m., Sat, 10 a.m. – noon. Contact the LCDC Campaign Headquarters at (207) 687-7052 or email office@lincolncountydemocrats.com to confirm the hours of operation.
Tickets will also be available at all LCDC monthly meetings and/or by contacting Valarie Johnson at (207) 549-3358 or email valariesmithjohnson@gmail.com.
The winning ticket will be drawn Sunday, Aug. 12 during the LCDC Lobster Bake and Family Fun Day, held at Cider Hill Farm in Waldoboro. You do not need to be present to win. The winner will be contacted on Sunday, Aug.12, so that they are ready to go the following Friday.
More information about "A Treat For Two" raffle for the Aug. 17 Nebo Lodge Barn Supper can be found at http://lincolncountydemocrats.com/raffle2018/.
ABOUT THE LINCOLN COUNTY DEMOCRATIC COMMITTEE
The Lincoln County Democratic Committee (LCDC) promotes the ideals, principles, and philosophy we share as Democrats. The nomination and election of candidates who advocate these ideals and principles ensure an effective, democratic government of and for all the people.
Photo Credit: Courtesy of Nebo Lodge